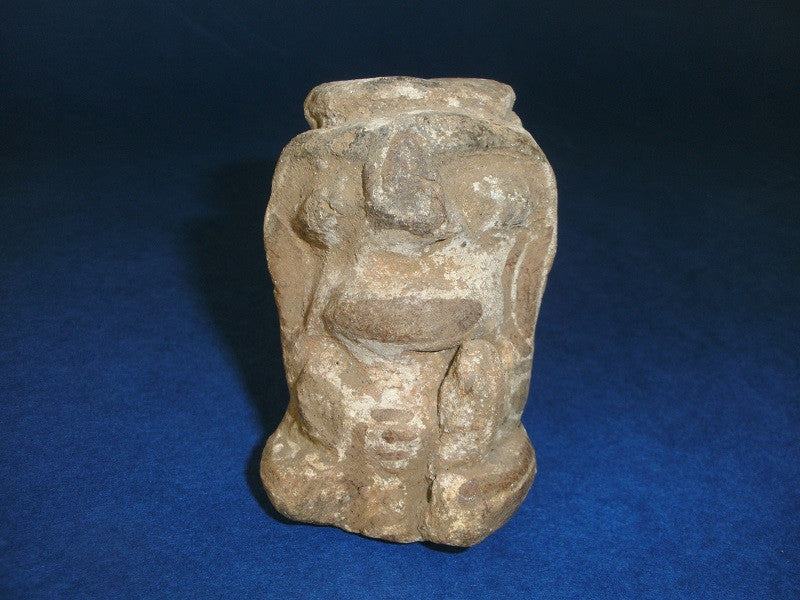 Ancient Pre-Columbian polychrome painted stone figure
This really is an interesting and an unusual piece which grows on me the more I examine it.
I don't know where this piece came from although there are similarities to some of the Central American cultures in style and painting. Stylistically I would estimate that this is between 1000 and 700 years old and judging by the deposits and accretions, it appears to have been buried for a long time.
I can not decide whether this figure is made from a hard black clay or whether it has been carved from stone. As you can see from the photographs, the underlying material is very dark grey / black in colour and where it has protruding edges, they have acquired a "polished" appearance from many years of handling which, together with the weight suggests to me that it is a soft stone rather than clay.
I don't know who or what the figure is supposed to represent but there are obvious eyes, nose and mouth and it appears to be holding something in its left hand. The most odd feature is the swept back "hair" on the top of the head, although this may also represent a hat / headpiece etc. The figure has been painted with a white coat, over which, features have been picked out with red highlights.
This figure stands 6.5cm high. There is some wear consistent with the age of this piece although mostly just to the paint.