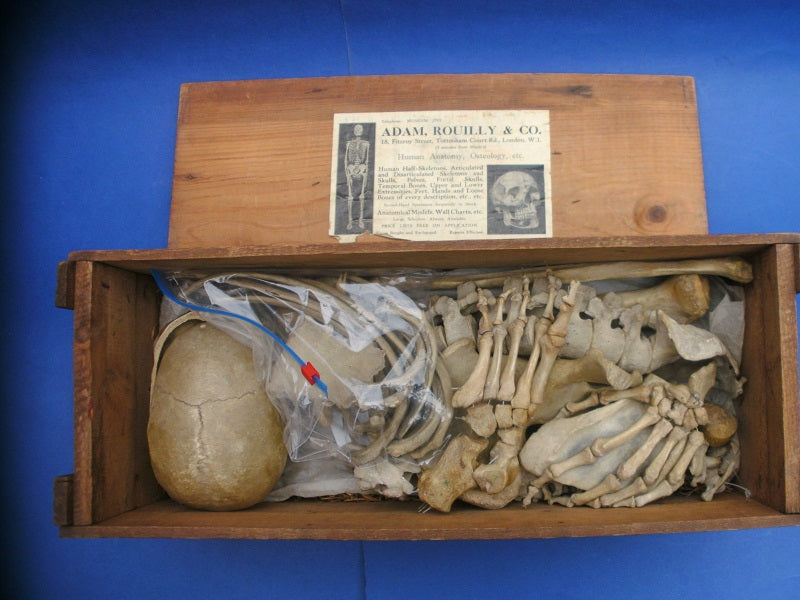 Antique Adam Rouilly medical real human half skeleton in wooden box
This is a nice early example of an Adam Rouilly skeleton. The box is early 20th century and the wonderful deep patina on the skeleton reflects all these years of handling.
The skeleton is in good condition for the age. Almost all the bones are still present. The hand and foot have been re-strung as the original thread had degraded but all the bones are present. The spine has also been re-strung and is interesting as it shows advanced fusion of thoracic 4 and 5 vertebrae. There are only 11 ribs present and some of those have been damaged at the ends over the years.
The skull is missing quite a few teeth but is still in good condition other than that. The springs to articulate the jaw are present as are the brass hooks to hold the cranium in place. Interestingly, the orbits of the eye sockets are very rounded which is often an indicator that the skull might be caucasian origin but the molar teeth are heavily stained black which might also be an indicator of chewing betel nut.
The box is in very good condition as is the original Adam Rouilly label on the underside of the lid. 
The skull and skeleton have a really nice deep colour and a rich patina. This sort of colour is only found in old skeletons that have had plenty of handling and use.